Table of Contents
Introduction
In addition to our PvP-focused games Trouble in Mineville and Cowboys and Indians, we're adding the music-packed party areas of KIG BlockParty.
The popular fast-paced dancing game is now coming to the server.
Stats
After you've reached 100 points you'll be offered the choice to transfer your stats from Hive. You can transfer anytime, and the stats will be added together.
Keep in mind it's a one-time offer and we can't guarantee it'll be available forever.
Additionally, we've added the following new stats:
Players outlived
Powerups collected
Round 25s reached
Floors
Our build team has created over 50 amazing new floors to spice up gameplay.
Some of them are also randomly painted, so you'll never get tired of seeing the same ones!
If you'd like to submit a floor, you can check this post.
Notable returning features
Powerups
Powerups are back, and they're now pass-through!
They also have a falling animation like this one:
Cosmetics
A selection of cosmetics has been added to the game.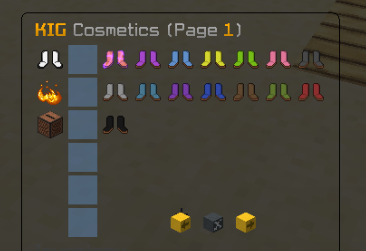 Achievements
As with CAI and TIMV, Block Party also has its selection of achievements.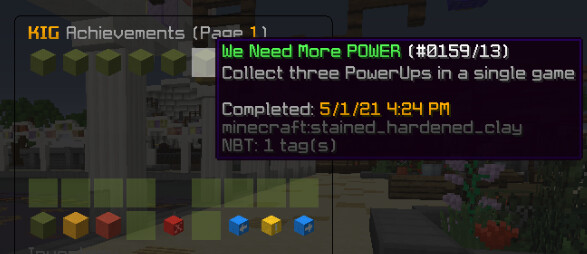 Win Streaks
Win streaks are properly counted and a leaderboard can be found in the waiting lobby.
Additionally, we've added Anxiety Mode, an optional feature that hides your win streak everywhere (in the sidebar, /stats and in the leaderboard).
New features
Music integration
You can vote for songs and have them play in the background, no browser needed! Everything is done through note block sounds.
You can easily turn the feature off if you want.

Color accessibility
Do you have difficulty recognising some colors?
We've created a custom resource pack with higher contrast and symbols on clay blocks to help you alleviate the issues.
Gamelogs
Like CAI and TIMV, Block Party supports gamelogs too. You have access to the game's chat and statistics.

Enquiries
If you have any suggestions you can submit them here.
If you have any questions you can post a new topic here, or you can message the BP Council here.
Release Date
You can play the first rounds of Block Party starting… this Saturday! (15/5)
Make sure to join our Discord server to not miss any updates.