New Website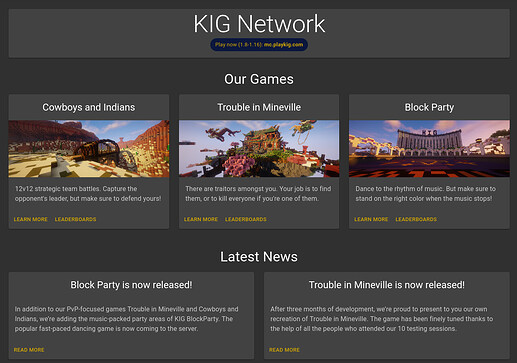 We now have a website with official guides, leaderboards and player stats, available at https://www.playkig.com.
Trouble in Mineville
Ranks
We've added almost 10 new ranks to Trouble in Mineville.
After a really in-depth discussion with the TIMV Council and a rank focus group, we've come up with a really nice distribution that, together with Watson being moved to 350,000 karma, allows us to add new ranks to make the game more interesting and fun.
You can see the updated rank list here, or by running /ranks in-game once the update has rolled out.
If you have any enquiries you can message the TIMV Council.
Watson colors & symbols
If you're a Watson, you can now change the color of your symbol, with a firework star like one of these:

You can only change to colors you've unlocked, so if you're Watson 2 you can change to either dark purple or white, etc.
Additionally, Watson 5+ won't use a numeric symbol but a star that becomes bigger the higher you go:

KIG Karma Leaderboard
Additionally, we've added a leaderboard based on KIG Karma. (not counting stat transfers)
If you hold the #1 place, you'll get a nice star next to your rank:

You can check the leaderboard here.
AFK timeout
If you stay idle for more than 2 minutes, you'll now be kicked from the game.
The kill is canceled so no players will gain/lose karma if the player disconnected this way.
Other changes
Block Party now requires only 2 players to start the 120 seconds timer. Once there are 8 players, the timer will be shortened to 30 seconds.
You'll now be notified with a message and sound when you rank-up.
/ranks now properly shows ranks with levels.
Most changes are already live, while the Trouble in Mineville update will be rolled out tomorrow at 11AM CEST. TIMV games will be unavailable during that time, but other games won't be affected.